Inspired by the Middle East, made in Albany, New York
Baabda Botanical Soap was founded in August 2019 & is a joint team effort of myself & my husband. I decided to start this business for several reasons, mainly to explore & share the ancient craft of natural soap making in the Middle East.
Bar soap has been made in the Middle East for thousands of years & there are many different kinds throughout each region or country. The Aleppo soap from Syria is one of the oldest soaps & includes a unique ingredient: laurel oil. In Lebanon the Baladi soap is still being made with 100% pure & local olive oil as always. Our most recent inspiration is the ancient Nabulsi soap from Palestine, made with baking soda for a softness that cannot be matched. Apart from their interesting background, there's something very inviting about their tactile blocky shape & how unique they smell. I hope to honor these recipes with our Baabda versions & share new kinds as we discover more soaps.
Use Baabda soaps at home for bathing & washing chores, at community bathhouses (Hammams) or after a swim at the pool, we are confident they will become a staple in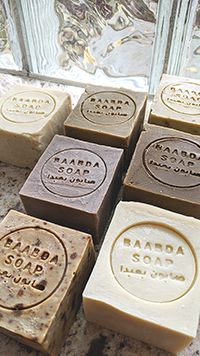 your household. Our soaps have minimal scent & a delicate lather which makes them suitable for all.
Baabda Soaps are:
-Natural
-Biodegradable
-Shipped in recyclable packaging
-Long lasting
-Sustainable
-Never tested on animals
-Palm oil free
-Low scent
-Suitable for sensitive skin
-Multipurpose