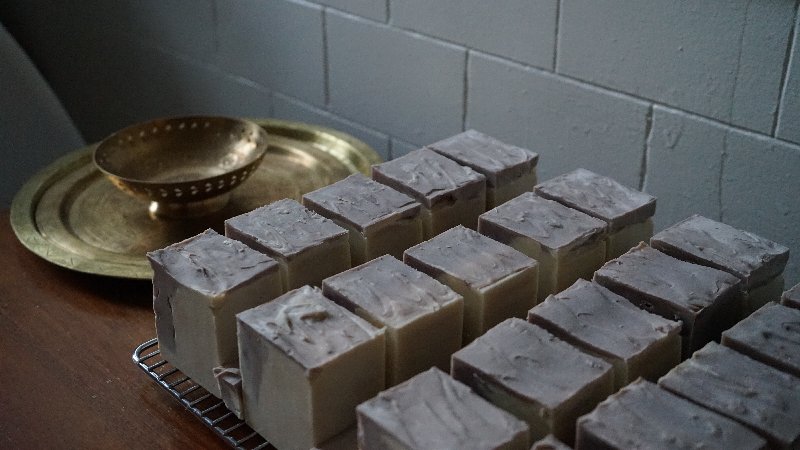 Baabda soaps are inspired by natural ancient Middle Eastern ingredients, recipes & methods. Our focus is to make a natural soap bar that cleans optimally, which is why we choose to work with olive & laurel oil. We also strive to be as close to nature as possible, using very few ingredients & continuously looking for sustainable solutions from production to shipping.

Our soaps are handmade in small batches (20 bars) using both cold & hot process methods, depending on the soap. Each soap is cut in the traditional large square shape & allowed to cure for several months to ensure the longevity, quality, effectiveness & lather of the bar. Imagine a lotion that cleans & reduces skin irritation by encouraging you to gently lather the soap thoroughly on your skin.

Below you will find the full list of ingredients we use in our various soaps. Although we prioritize making cleansing soaps, many of the ingredients we use include properties that your skin & hair will love.
_______________________________________________________________________________________________________________
Ingredients
Disclaimer: This is not to be used as medical advice, but rather a reference. Please note that all soap is antibacterial.

Baking Soda:

Black Tea extract:

Bentonite Clay: Soothing, healing & moisturizing, helps with irritation caused by contact dermatitis. Can help create a protective barrier on the skin. We enjoy the creamy lather it adds to the soap. Read more

Calendula/Marigold: Used everywhere in the world for being anti-inflammatory, regenerative/healing, antiseptic. Used to macerate with olive oil. Read more

Salvia Sclarea (clary sage) Oil: Native to the Mediterranean. Skin & muscle soothing, anti-fungal. Read more

Geranium oil: Balances oil & uplifts hair, gives skin a nice glow.

Henna Oil & Powder: Its uses date back from ancient Egypt because of its anti-fungal, anti-inflammatory & skin cooling properties. We like that it helps strengthen the hair cuticle, protect hair by prevent breaking & give it a healthy shiny glow with its regenerative & conditioning properties. Read more

Jasmine oil 30%: Regenerative & antimicrobial with a mood boosting scent. Curly or frizzy hair would enjoy its benefits as it softens, hydrates and locks in the moisture to hair, scalp & skin. Includes distillates of neroli, rose, geranium, lavender & tuberose
Laurus Nobilis (laurel) oil: Used for centuries in Syria for soap making. It is antiseptic, nourishing, moisturizing and quite incomparable to other oils & additives. It will revitalize any skin or hair type, especially sensitive or damaged skin. It has anti-inflammatory properties & helps reduce itchiness. Read more

Lavender Powder: Known for its soothing & anti-inflammatory properties. We use this for its irresistible & delicate aroma instead of lavender essential oil (less essential oils in soap means less risk of skin/scalp irritation). It also acts as a gentle exfoliant.

Olea Europaea (olive) fruit oil: Regenerative, nourishing, cleansing. Olive oil helps protect & moisturize all skin & hair types. A legendary staple in soap making in the Middle East. The traditional Baladi (Lebanon) & Nabulsi (Palestine) soaps are made using 100% olive oil. Suitable for children, adults & everyone in between.

Pink Clay: Soothing & nourishing while also being delicate for sensitive skin. Provides lovely pink hue to soap.

Rose oil 5%: Distilled from the Damask rose, it is cleansing & has uplifting aroma therapeutic properties. Includes distillates of geranium, neroli, citronella & palmarosa.